Ready to Ride!
This is the product to this point. It is ready to ride. Now that I have the pictures of it really clean, I can go out and tweak it good and always say, "It WAS real nice".
Possible updates might include the following
Fiberglass yellow tank, save 5+ pounds
Replace handlebars with alloy, I like floating perches for my brake and clutch levers
I already have Magura perches, levers, and Gunnar Gasser throtle
Fiberglass fenders beacause they are paintable, to maintain the yellow color scheme
New damper rods for the front forks, better action, save 1lb, perhaps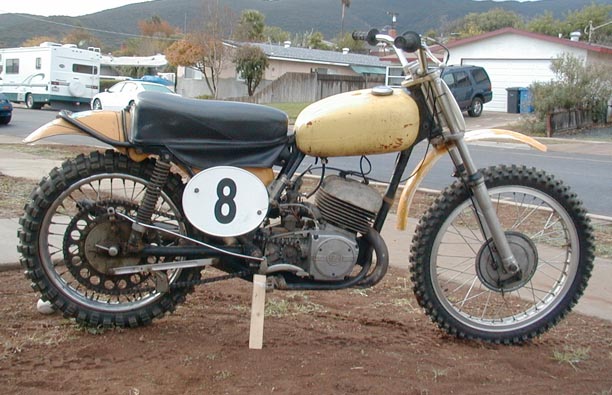 This is the before picture, as purchased. It is all there, just needs to be cleaned up a bit.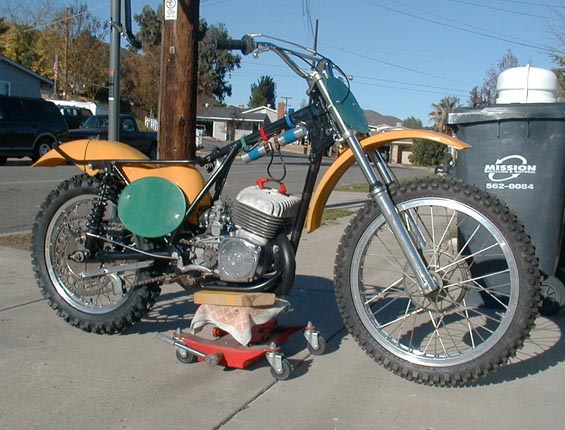 OK, I know it needs a gas tank and seat, but in the mean time check out that transmission jack used to support the bike. They are cool because when you pull a wheel off and need to move the bike, you can still move it out of the way or over to the welder, etc. Thay are available from Harbor Freight for about $70. I love it. Works great for Volkswagen motors too.

Rattle can technology, if you get too close you can see it, It turned out pretty good, if I do say so myself though.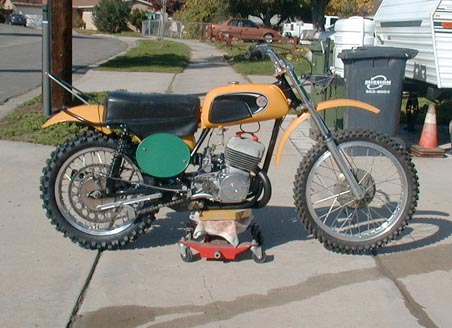 Well, That's about it. I'm going riding. See you around, I hope.
I am open to suggestions.
Craig Walker
cwalker1@cox.net